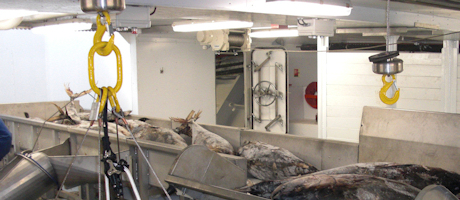 For several years now, a French shipbuilder has chosen to use our compact electric winch to equip the holds of its tuna fishing boats. Once on board, the tuna join a real embarked factory where they are seized cold. It is during this stage that the TRBoxter type winches are used. In this marine environment to which they had to adapt, the winches are used to manipulate these huge fish which are then placed on the conveyor belts where they are sorted by species and size.
Many equipements and options allow to meet numerous constraints linked to the harsh environment (extreme temperatures, reduced speces, sea water, saline air...) ensuring in particular the longevity of the material over time:
specific paints (C4 type, C5M type with certificate),
drum guard limiting the risk of accident or damage to the winch,
stainless steel drums, rope press-roller, electrical unit, rope and hook,
spooling gear: high wire rope capacity is often required on the equipment and this device makes it possible to guide, wind efficiently and quickly the wire rope on the drum under load.
specific anti-corrosion treatments (drum...),
reinforced protections of electrical equipment (IP 66 limit switch, IP 56 motor...).
Technical characteristics of the TRBoxter range:
Capacity: compact electric winches from 250 to 1500 kg, depending on models.
Speed: up to 60 m/min, depending on models.
Useful rope capacity: up to 90 m, depending on models.
Classification: from 1Am to 1Cm (FEM) / from M1 to M3 (ISO), depending on models.
Motor: from 0.75 to 4 kW depending on models. IP 55 protection.
Use: Outdoor atmosphere - Temperature -10°C + 60°C.
Equipments and options (finish...) : marine paint, grooved drum with anti-corrosion treatment, specific rope press roller, cam multi position limit switch, stainless steel wire rope and hook, 24 V very low voltage control.
To know more, do not hesitate to contact us!