Personnel lifting requires the use of appropriate and certified equipment for this specific type of application.
We already have manufactured this type of equipment : do not hesitate to consult us.
Gantry crane with a cradle for maintenance operations in a rotating mill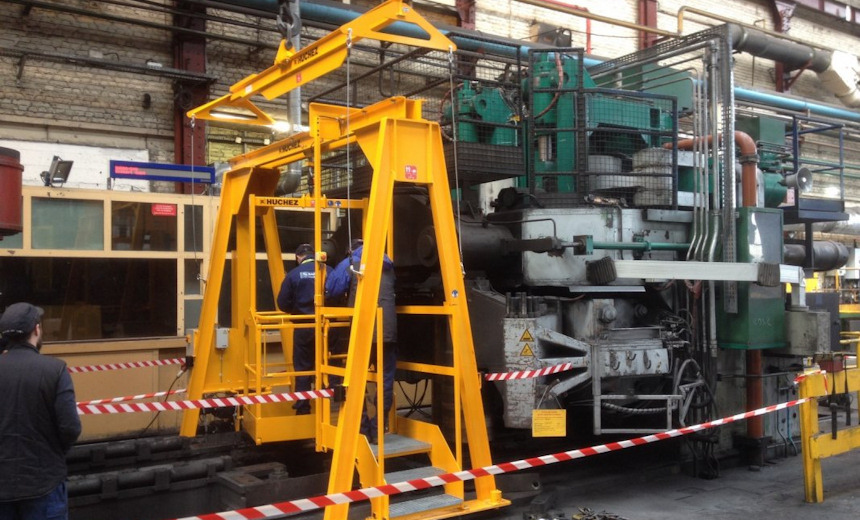 Presentation
The gantry crane and the cradle are used for lifting people for inspection and maintenance operations in a rotating mill.
Technical characteristics
Gantry crane equipped with a double winch system (the first one as a lifting winch and the second one as a fall arrester), a cradle, a retractable access bridge. Safety working load (SWL): 140 kg (2 people with tools. Working cable length: 8 m. Maximum working depth: 8 m. Dimensions: 3.20 m height x 3.80 m length x 1.60 m width. Equipped with a safety/emergency manual device (Crank on the fall arrester winch arm). Radio control for the operator on the cradle. Additional safety control device on the low voltage control box for the second operator. Certified for lifting personnel (EC).
Tractor lifting winch with follower load arrester winch for work in penstock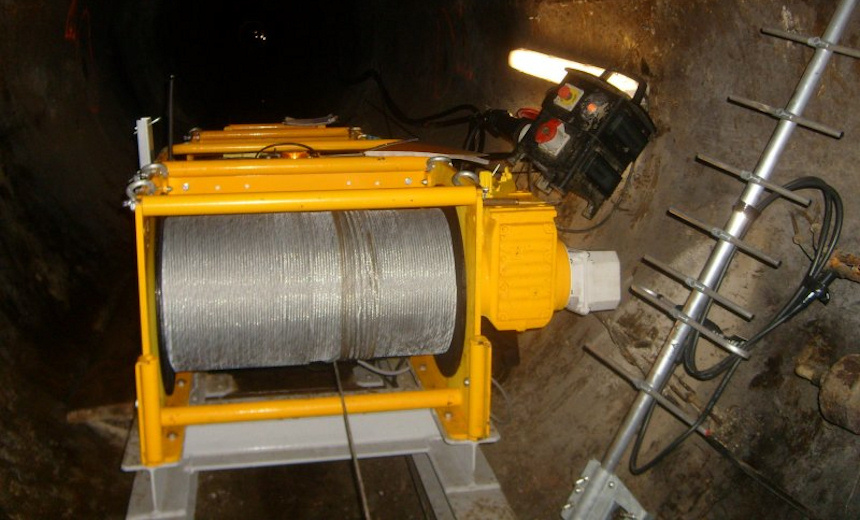 Presentation
The winches guide and hold a mobile load in a 1000 m long penstock. The lifting winch enable to perform lifting and lowering operation of loads. The fall arrester winch ensures the security of the load during its movement. Possibility to certify this equipment for personal lifting.
Technical characteristics of the tractor winch
Maximum lifting capacity of 600 kg, nominal speed at the 1rst layer: 10 m/min and 16 m/min at the 8th layer, useful wire rope capacity of 1000 m ( wire rope diameter 6 mm), controls : 1 km range radio control (with YAGI antenna /coupling of the control with the fall arrester winch, manual brake release with automatic return, upper and lower limit switch, coupling of the emergency stop with the follower load arrestor winch, electronic load limiter, temporization during the stop to maintain the load arrester winch functioning (2 s).
Technical characteristics of the fall arrester winch
Fall arrester winch with detection of over speed, over speed limit : 18 m/min, holding capacity: 800 kg, cable recall effort: maximum 70 kg on the 1rst layer, maximal pursuit speed on the 1rst layer 15 m/min, control : pursuit effort adjusting knob high effort or low effort/ coupling of functioning with the tractor winch, wire rope : 1000 m in diameter 6 mm.
Inspection well mobile crane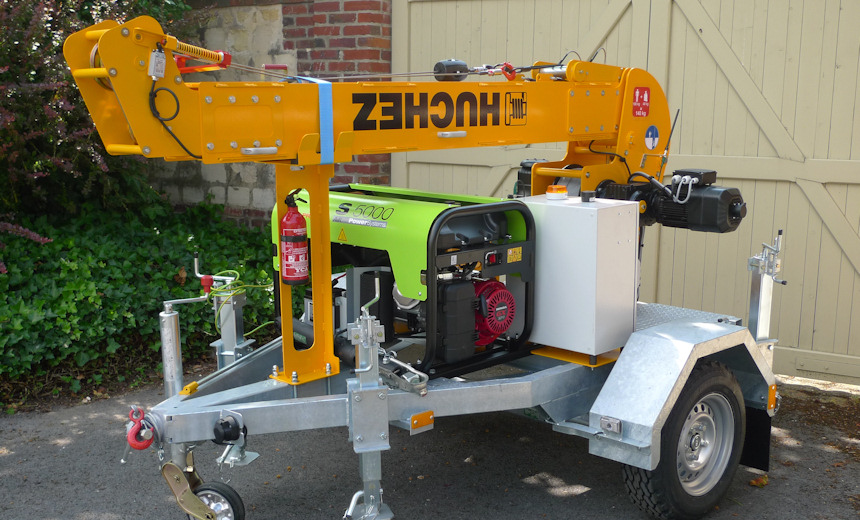 Presentation
Set consisting of a trailer, a main winch, a security follower winch, an ergonomic chair and a petrol generator. APAVE certification for lifting personnel.
In this case, the crane is used to lower the geologist responsible for taking samples that will allow him to study the composition and richness in ore of the ground for which extraction is proposed.
Technical characteristics
Average lifting speed: 15 m / min, max useful stroke: 115 m, max payload: 140 kg, IP55 protection against dust and water, rated power for lifting motor: 0.64 kW, electrical box comprising low voltage control, variable speed via frequency inverter, acceleration and deceleration tables, braking resistor, 200 m range radio, backup remote control.