Building constructions, quarries, infrastructures such as roads, bridges, pen-stock... require the use of lifting equipment so called 'site winches' equipped with specific chassis and frames, sometimes insulated and very often with very high forces and wire rope capacities.
Many constraints that our engineers are accustomed to consider.
A HUCHEZ winch used by scientists in a Arctic research programme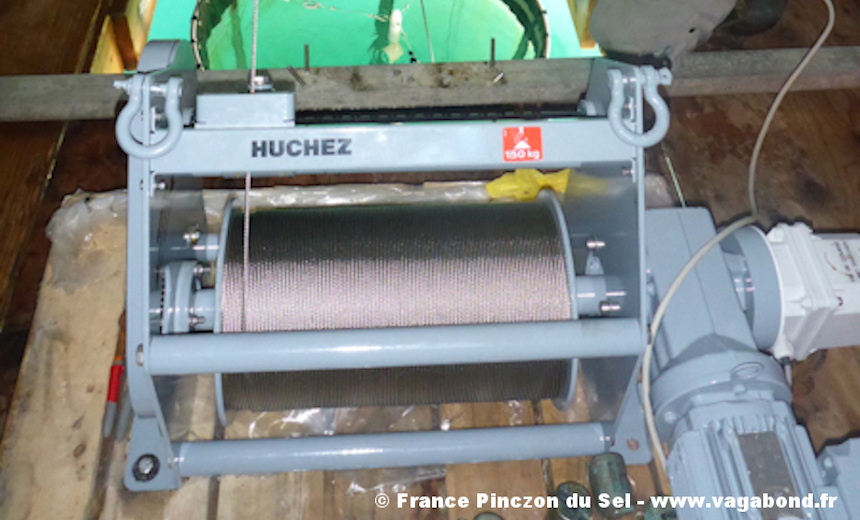 Presentation
The winch with a tripod as an anchorage point overhanging a hole made in the ice is used by the scientists to lower and lift various oceanographic instruments (sampling probes, etc.) as part of their research.
Technical characteristics
Lifting capacity on last layer (max. load): 150 kg. Adjustable speed on last layer: from 61 m/min to 3 m/min. Capacity: 400 m of Ø 4 mm stainless steel rope with stainless steel hook. Mechanically welded chassis structure and smooth drum. Upper and lower limit switch. Cable guide using cross-threaded screw. Electrical unit including: 230 V single-phase winch power supply, very low voltage control (lifting, lowering, potentiometer and emergency stop), variable speed drive using variable frequency, fully programmable acceleration and deceleration ramp, braking resistance, button activated remote control with flexible cable. C4 type marine paint.
Mobile lifting winch for the installation of equipment used in the event industry (projectors, ramps ...).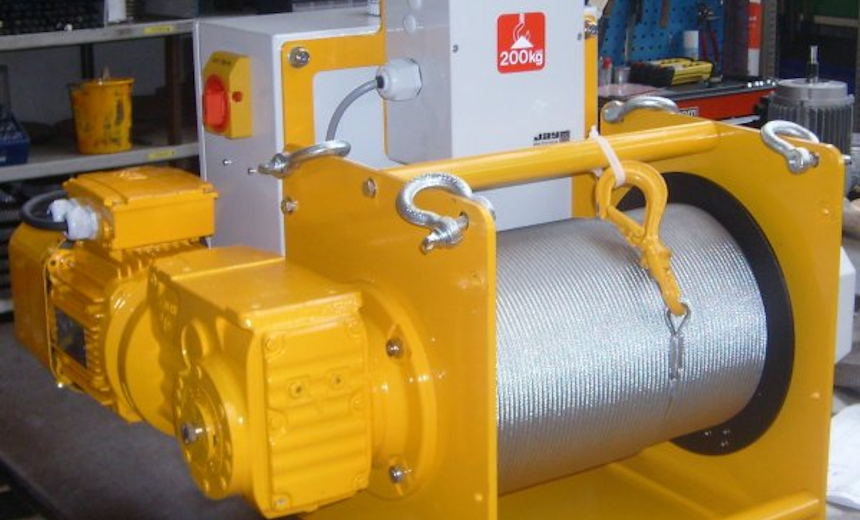 Presentation
The specificity of this winch is based on a monitoring of the load by the inverter allowing to automatically switch to high speed when the winch is empty. Radio control with two piloting positions.
Technical characteristics
Maximum lifting capacity: 200 kg, speed: 32 m / min with load and 48 m / min with no load (automatic switch to high speed when the load is very low), equipped with 160 m of wire rope, control: pendant control or dual control remote control (Dual transmitter with pick and catch option), power: 230 V single phase (domestic plug).
Gravity winch and load arrester winch 600 kg on 1000 m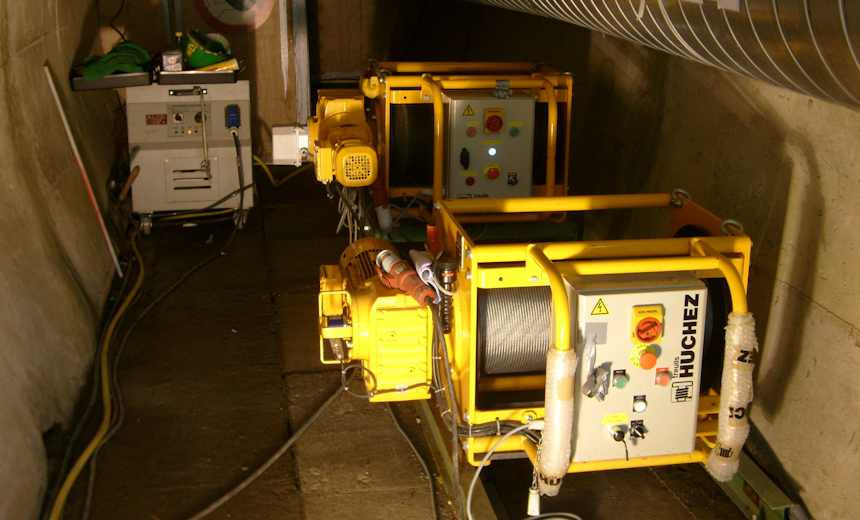 Presentation
Site winches for working in pen-stocks. The set is made of a lifting winch, a load arrester winch and a winch simulating gravity.
Technical characteristics
SWL: 600 kg, speed 14 m/min, useful wire rope length of the 3 winches: 1000m.
10 t winch, 6m/min with great wire rope capacity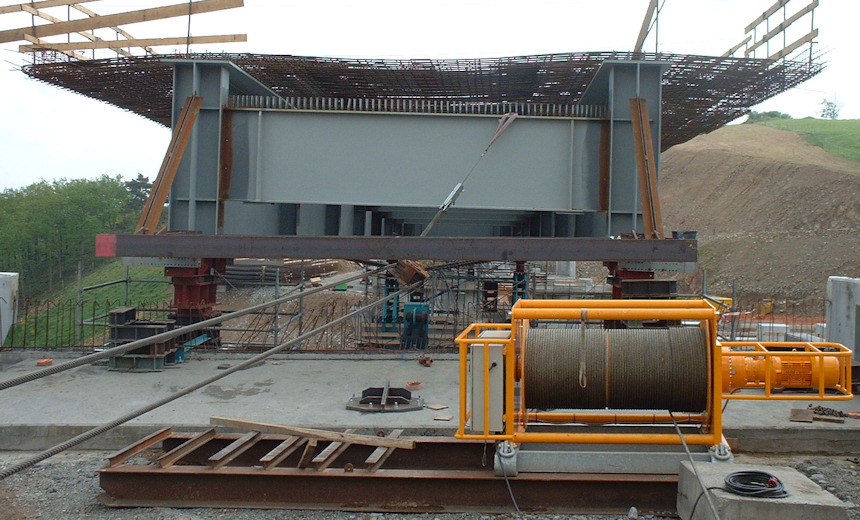 Presentation
Electric lifting winch use for bridge launching techniques up to 800 t.
Technical characteristics
Force 10 tons, speed: 6 m/min, ø 24 mm wire rope capacity. The complete weight of the winch and wire rope reaches about 6 tons. Power: 400 Volts - three-phase 50 Hz on generator. Options: electrical cabinet with a speed inverter with frequency variation and braking resistance. 10 meters long pendant control. Electronic load limiter and safety limit switch.
4 tons capacity thermic pulling winch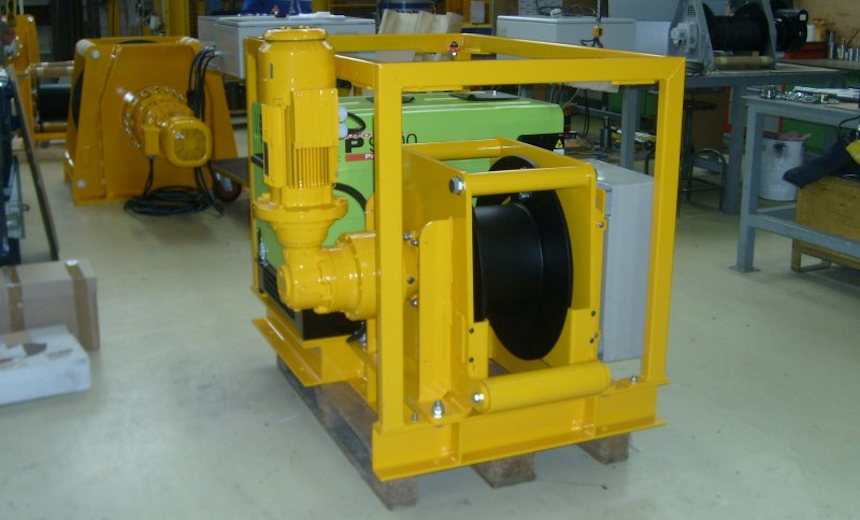 Presentation
Thermic winch (on generator) used to install catenaries. This winch is on board a workshop wagon/trolley.
Technical characteristics
Pulling capacity: 4 tons and speed of 5 m/min.