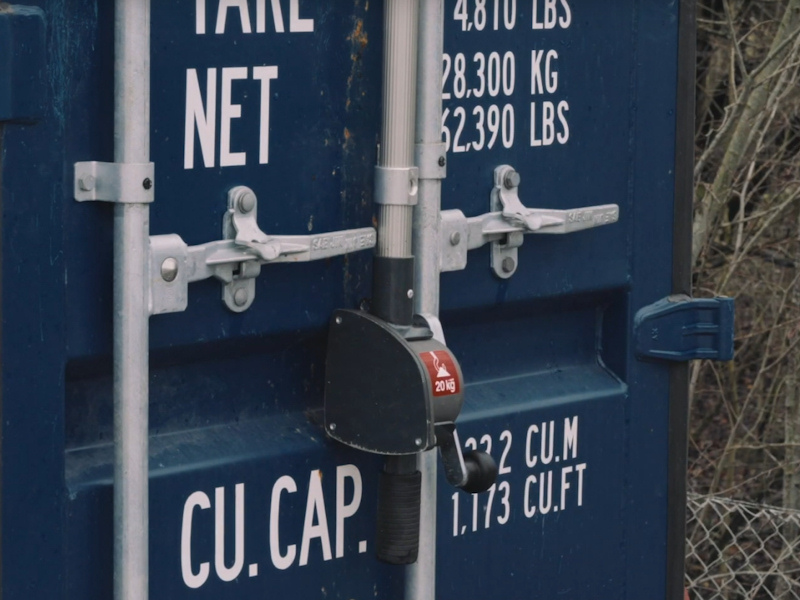 HUCHEZ manual winches integrated into HydroPen (©ROSENBY Engineering) a system for fighting container fires.
Container fires are a very real risk for transport vessels at the financial level (cost of goods transported or even the ship) but also human (crew safety). The fact that these containers are placed at often high heights and that they are close to each other are aggravating factors.
In 2017, the engineers of the Danish engineering firm ROSENBY Engineering have therefore addressed this major problem by seeking a solution to rapidly extinguish these container fires (whether at height or at the deck of container ships) and avoid any spread. After several months of study, the HydroPen project was born: a machine using the pressure of the water of a fire hose to pierce the container door in which the fire broke out and fight effectively against it.
At this stage of the project, however, there was one issue to answer: the system had to be easily and quickly deployed by the crews.
In September 2018, ROSENBY Engineering used the expertise and know-how in hoisting of HUCHEZ team via MAX FODGAARD, their partner in Denmark and it is the standard range of wall mounted hand-winches MANISTOR that was selected to hoist the HydroPen on a telescopic mast closer to the container on fire. Equipped with a removable crank, these lightweight and compact winches are designed to be used outdoors and are known for their ease of installation and ease of use.
After an on-site technical visit to get acquainted with the project, the HUCHEZ engineering team worked on the study of the specifications, the advice and the analysis of the technical feasibility. Once the choice of the MANISTOR and the necessary adaptations (special anti-corrosion treatment, addition of a plate and a tubular part to attach to the telescopic tube, specific drum release system, crank and specific handle) validated with ROSENBY Engineering, several prototypes were made and tested before arriving to the development of the final version currently in production. The first winches will be delivered to Denmark in the coming weeks.
The HydroPen system is the subject of a patent application. ROSENBY Engineering recently received the Safety at Sea Awards 2019 (category : fire-fighting) from SAFETY AT SEA magazine for this innovation.
To know more about it, do not hesitate to consult the official site of the Danish designer: rosenbyengineering.com (video…) as well as that of the exclusive distributor of the solution: viking-life.com.
Technical specifications of MANISTOR hand-applied winch suitable for HydroPen:
Capacity: 20 kg
Cable capacity: 20 m
Crank lift: 153 mm
Specific anti-corrosion treatment.

Releasable drum.

Hand crank and handle specially adapted.
To know more about our range of MANISTOR hand winches, consult our website: here.